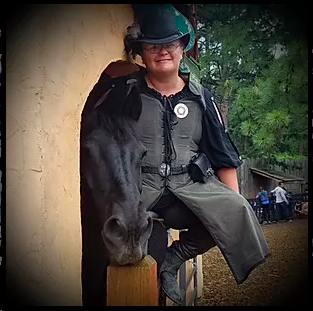 Episode 39: Welcome to the Equestrian Author Spotlight podcast! In each episode, you'll hear inspirational stories from horse book authors including writing advice and marketing tips to help you write your own horse book. If you are an author, aspire to be an author, or simply love horse books then you are in the right place!
In this week's episode, you'll meet Gallant Hearts series author J.D. Harrison. You'll learn ...
About her experience squiring at championship tourney, long-term love affair with all things medieval and renaissance, and how she brings to life the unorthodox culture of jousters and their horses in her books.

Why she rebranded the book covers in her Gallant Hearts series and what the process looks like.

How she uses Kickstarter campaigns to fund her books.

And MUCH more!
Website: https://www.gallanthearts.com/
Visit https://www.carlykadecreative.com/pod... where you can read the episode show notes and find the links and recommended resources. Make sure you subscribe to the podcast on YouTube, iTunes, Stitcher, or via RSS so you'll never miss a show.
Want a free guide to secrets of horse book authors? Gallop over to https://www.carlykadecreative.com/wis... and join the Equestrian Author Spotlight email list to have the author advice resource delivered instantly to your inbox.
If you are an author who writes about horses and would like to be spotlighted let me know. I'd be happy to include you, too. Visit my contact page at https://www.carlykadecreative.com to fill out a request.